MARIA "Ria" JOSE, Editor-in-Chief


Professional Blogger. Social Media Strategist. Davao Bloggers Society Founding President. Aspiring Vlogger. Brand Ambassador. With over 10 blogs developed, you could say Ria has tried it all. Well, at least online. After more than 10 years as resident blogger and editor-in-chief of MyDavaoCity.com, she remains passionate and committed to sharing her hometown to the world.
Blogs:
Diyosa Life http://www.diyosalife.com
Life with Ria http://www.riajose.com
Kusina Maria http://www.kusinamaria.com
Youtube: http://bit.ly/DiyosaLifeTV
Facebook Pages: Ria Jose | Diyosa Life
Instagram: @riajosedavao | @diyosalife
Twitter: @riajose
Email her at mydavaocity@gmail.com.
DREW DELA SERNA, Webmaster
Drew is the webmaster of My Davao City, responsible for the technical goings-on and design issues of this blog. He is currently employed at one of the biggest Content Management Software companies in the world. He is a photography enthusiast and also an aspiring vlogger.
Blog: Andrew.blog http://www.drew.blog
Instagram: @druesome
OLIVIA LIMOS, Managing Editor


Olivia is a neophyte in blogging. Her lack in experience is greatly compensated by her passion for fashion and photography. She is fond of trying out new things and love sharing her wonderful experiences about it. With her zest for blogging and her willingness to work, she can learn to master almost everything and she will never stop learning.
Blog: OC-Craft
Facebook Page: Olivia Cena
Instagram: @Carmella08
Twitter: @OlibCena
ATHINA ANGLIONGTO, Contributor

Athina is a street-style fashion junkie since her high school days. She loves to play mix-match with clothes and shares her outfit ideas on her blog and social media accounts. Aside from main blog about fashion and beauty, she also has a food and staycation blog co-founded with her husband, Mark Andrew, where they write about their weekend dates at various restaurants and hotel stays. Today, Athina has dedicated a portion of her time to do more vlogs in her Youtube channel. She recently started a new vlog series called #weekendswithMrsA featuring all her shenanigans during her off duty days.
She is a banker on the weekdays, proud blogger and vlogger on the weekends, hands-on wife and furmother 24/7.
Blogs: I Am Mrs A, The Angliongtos, The Part-Time Dyosa
Youtube Channel: Athina Angliongto
Facebook Page: I Am Mrs A
Instagram: @i.am.mrs.a
Twitter: @mrs_angliongto
RENZ BULSECO, Contributor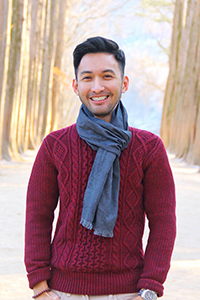 Renz is a self-confessed geek. His interests include aviation, physical science, landscape photography, Asian history, arts, and travel. He currently works as an Air Traffic Controller at the Francisco Bangoy Airport. During his days-off, he is either out for an adventure or is busy reading his favorite books and watching documentaries and series on Netflix. He continues to fulfill his personal goal to visit at least 30 countries before he turns 30.
He may be seen traveling to various places, but Renz will never trade Davao City as his favorite destination. There's no other place like home!
Blog: The Geek Travels
Youtube: Renz Bulseco
Facebook Pages: RM Bulseco | The Traveling Nomad
Instagram: @RMBulseco
Twitter: @RenzyBenzy
GEM TADEFA, Contributor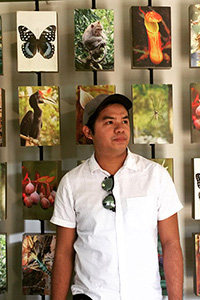 Gem is a bubbly soul who hungers for everything life has to offer. He thrives on gleeful moments in the company of family and friends. Gem is a pro in zapping out negavibes. Gem is a beauty queen personified with a dash of barbie. Outsourcing 8 hours a day, Barbie Blogger 24/7.
Blog: Pages Flipper http://www.PagesFlipper.com
Youtube: Gem Tadefa
Facebook Pages: Pages Flipper
Instagram: @PagesFlipper
Twitter: @GemTadefa
CHAM TANTERAS, Contributor

Cham considers herself a Jack of All Trades. Hopefully, master of some. She's a Celebrity Stylist and an aspiring Fashion Designer. She started blogging in 2012 to have an outlet for her inspired OOTDs. Now she tries to venture into lifestyle, food, and travel vlogging. She's a go-getter and a goal digger. Wherever Cham may be, her heart remains in Davao, her home.
Blog: Cham Can Do Everything
Youtube: Cham Tanteras
Facebook Pages: Cham Tanteras
Instagram: @ChamTanteras
Twitter: @ChamTanteras
JEXX HINGGO, Social Media Manager
Jexx is a licensed nurse but is currently pursuing a career in the BPO Industry. He loves to travel and explore new things. He started blogging in 2014 and was elected as the Social Media Director for the Davao Bloggers Society in 2016. He is a certified foodie. This is why he created a food blog entitled "Davao Food Lover." When he is not traveling or eating, he is a couch potato! He loves suspense and comedy TV series, movies, and anime. Jexx loves hanging out with friends. He has a creative mind which is obvious in his blogs and social media outlets.
Blogs: Eat Well. Travel Often. and Davao Food Lover
Youtube: Jexx's Vlog
Facebook Page: Jexx's Vlog
Instagram: @JexxHinggo
Twitter: @JexxHinggo
Former Staff Members
Luisa Angela "Luan" Nucum and Maria Christina "Gwing" Cabreira are the support team members of the MDC Team.
CONTACT US AT MYDAVAOCITY AT GMAIL DOT COM.