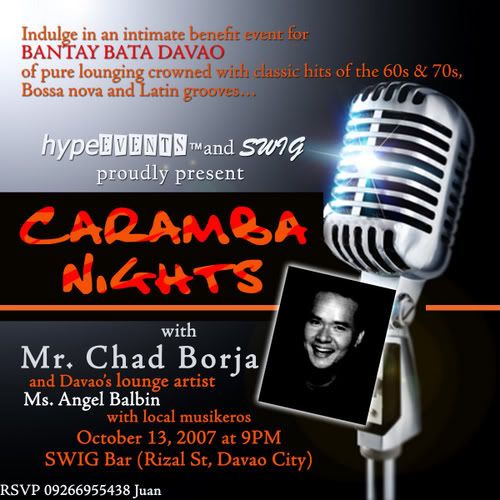 Fall in love again–
Feel the vibe this month!
On October 13, hype EVENTS and SWIG Bar invite you to chill with us in a benefit event for BANTAY BATA DAVAO of pure lounging crowned with classic hits of the 60s & 70s, Bossa nova and Latin grooves tapping the lounge aficionados of the Davao night scene.
It will be staged by one of the country's self-made balladeer from the Queen City of the South, CHAD BORJA who popularized his single, "Ikaw Lang" together with the local musicians launching here at the Davao shores. Mr. Borja worked with world-renowned jazz artists namely, Ms. Lani Hall, Ms. Kevyn Lettau and Ms. Kuh Ledesma to name some and was produced by Japanese American Jazz artist Yutaka Yokokura.
Plus, we are honored to have Davao's well celebrated lounge artist, Ms. ANGEL BALBIN joining a PHENOMENAL comeback — serenading us with their elemental voices!
So save the date, chill with us and finally begin to understand why 'lounging' with an edge is the best option on that Saturday night! Let's do this!
Donation ticket is at PhP200 minimum inclusive of free ala carte
(For reservations, kindly contact me at 09266955438 or drop me a message at hypedavao@gmail.com.)